3rd April 2013 at 03:15
Former Skid Row vocalist Sebastian Bach's brand new CD/DVD package, "ABachalypse Now", was released in North America on March 26 via Frontiers Records. The "ABachalypse Now" Ultimate CD/DVD Edition includes never-before-seen footage from last year's Graspop Metal Meeting festival in Dessel, Belgium, the full never-before-seen Hellfest set from France and the fully-remixed and remastered Nokia show from Los Angeles (originally broadcast on AXS TV), as well as bonus music videos.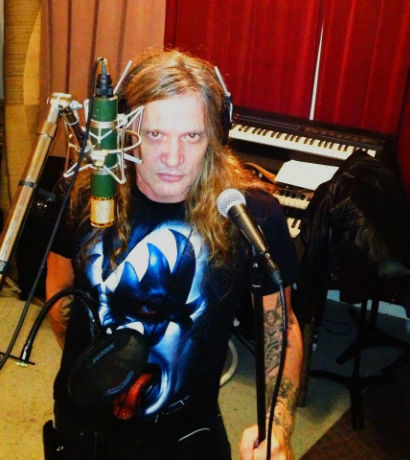 In a new post on his Facebook page, Bach writes: "I want to eliminate some confusion right now about what you are getting. I made the stupid mistake of reading some comments online, and I would like to address some confusing comments that I have read.
"'ABachalypse Now' contains three separate concerts. Originally, 'ABachalypse Now' was going to be a DVD-only release. Then the record company came to me with the idea of accompanying the DVD with two CDs of the audio, for the collectors. After thinking about it, I agreed to put out the audio onto CDs, along with the DVD. However, this changed the whole nature of the project.
"If this was to be a DVD-only release, the audio would not have been such a major concern. But releasing CDs of the audio made the audio portion of the concert a big concern to me. Since I was now going to release the concerts on CD, I had to pay full attention to every detail of the audio recording of both concerts. Two of the concerts, Hellfest in France and Nokia in Los Angeles, were digitally recorded on 48 tracks. This allowed us to go into the studio and fix anything we wanted to musically.
"My favorite live albums of all time are Judas Priest 'Unleashed In The East' and 'Kiss Alive'. It is very well-known and common knowledge that both of these records are made to listen to for all time. Which means every note is perfect, and every detail was paid attention to.
"I did not invent the music industry. There are no live albums in existence, at all, that are 100% live on stage. If there are, chances are that they are not very good. But... and this is a big BUT... the third concert of the DVD, Graspop [Metal Meeting] in Belgium, was recorded on only TWO tracks. This meant that we were NOT allowed, AT ALL, to fix ANYTHING, in the studio, on the Graspop show.
"If you want to see a fully live performance, with no repairs made at all in the studio, whatsoever, you can watch the Graspop show. The Graspop show is 100% live. Zero overdubs. Zero repairs. That is why it is not part of the CD bonus.
"My favorite song of the whole DVD to watch is probably 'Dirty Power' from the Graspop show. The Hellfest and Nokia shows are indeed made to sound perfect on CD. But we did not have that luxury with the Graspop show. So the answer is, yes, I most certainly made sure that each and every note on the CDs are perfect.
"When a comment is made online that my voice sounds 'too perfect,' I do not take that as an insult.
"I don't want to burst anybody's bubble, but the original version of '18 And Life' was not recorded while I was running across from left to right on a stage the size of a football field. It is a delicate ballad, sung by me, when I was 20 years old. I will be 45 next month. The fact that I can still sing '18 And Life' in the same key that it was recorded in when I was a teenager, and I can still hit the same screams at the age of 44 that I recorded when I was 20, is something that I feel very blessed to be able to do.
"When I am making a CD, I definitely want every note to sound perfect. This does not make me a bad person. This is merely the example set by 'Kiss Alive', 'Unleashed In The East', and every other great live album that I own.
"If you want to watch a 100% live performance, please enjoy the Graspop show on 'ABachalypse Now'. If you want to listen to a CD, please enjoy Hellfest, and Nokia, which are made to sound as good as I could make them sound.
"And for those of you thinking that it was all re-recorded in the studio, the answer is, no, it was not. Pretty much every high scream of the Hellfest show and the Nokia show is on the CD live, as it was recorded, in concert. The stuff I fixed up was mostly me running around during a verse or chorus or something. The fact that I was able to go in the studio and sing standing still made a big difference when I was listening back to the final product.
"So if you want to watch the full live show, with no studio repairs, then you can watch the Graspop show. I am not hiding anything. I have made a live CD in the tradition of the live CDs that I personally enjoy to this day.
"Thank you for watching and listening. I really hope you dig it."
The "18 & Life" performance clip from "ABachalypse Now" can be seen below.
The DVD contains a running time of nearly 160 minutes. "ABachalypse Now" is available in two configurations: the Ultimate CD/DVD Edition (2 CDs + DVD) and a standalone DVD.